For those who didn't know, Amazon offers many books for free. So my darlings, here are some freebies that caught my eye this month. You can buy them in no time for free, just with one click. Your kindle will be full of awesome books.
Warning: Double check before you buy because the prices change all the time.
Here you are: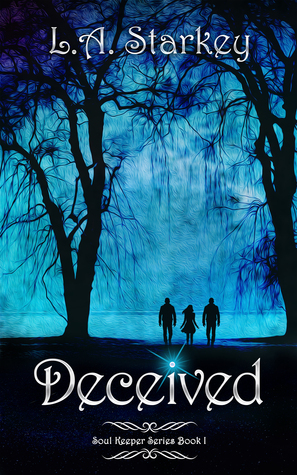 [Deceived]
➛ Amazon [buy for free]
They say a soul is the immaterial essence, the animating principal, the actuating cause of an individual life.
But what if you had to share yours with the one person you hated the most?
The soul mate principal states that for every one soul there is another that will recognize its match, hence creating the perfect union.
But what if you had two soul mates, which would you choose?
What if your choices had eternal ramification?
Deceived, the debut novel in the Soul Keeper Series, is a modern day love story about the implications of having more than one soul mate, and having to choose between the two of them. The decisions of the gods has left the next generation, their heirs, torn between fate and reality, and the balance of the future hangs in anticipation of what's to come.
L.A. Starkey is the author of the upcoming Soul Keeper Series, a supernatural young adult series, and The Liarus Detective Series, a supernatural middle grade series.
She is a CPA by trade, a church planter and entrepreneur at heart; however, writing and reading are passions she just can't help but indulge in. With more ideas than one person should be allowed, she is blessed to have a muse that doesn't seem to take a vacation and more energy that one might consider healthy.
She writes under the following pen names:
Kate Thomas – NA/Adult Paranormal
Isabella James – Sci-fi/Fantasy
Lauren Elizabeth – Adult Contemporary Romance
[Falling]
➛ Amazon [buy for free]
Maya knew something was wrong… The stranger's glowing hands were a big tipoff.
When the stranger murders Maya's boyfriend with a single touch and injects the college sophomore with a DNA-altering serum, Maya prays for a savior. Instead, she gets a double helping of knight-in-not-so-shining-armor when two young men claiming to be her half-brothers pull off a belated rescue.
Now Maya is swiftly transforming into an "angel", one of the scientifically enhanced, energy-sucking creatures her brothers have spent their whole lives trying to destroy. Maya's senses sharpen, her body becomes strong and agile, and she develops the ability to visually see the emotions of those around her as colorful auras…beautiful auras…tempting auras.
Struggling to control the murderous appetite that fuels her new abilities, this reluctant protagonist must find a way to accept her new condition and learn to trust her angel-hunting brothers as she joins them in their fight against the powerful and destructive creatures.
On the up side, at least Maya's eldest brother has stopped trying to kill her!
FALLING takes all the foul-mouthed, attitude-driven humor of the BLACK DAGGER BROTHERHOOD series and combines it with the action-packed, love/hate family dynamics of the CW show SUPERNATURAL.
Get ready to fall hard for FALLING, the first novel in J Bennett's new adult paranormal series, GIRL WITH BROKEN WINGS.
Warning: This book contains violence, sexual content, and strong language.
J Bennett lives and writes in San Diego. Her writing partner is a bunny named Avalon who contributes to each manuscript by trying to eat it. His adorableness is his primary strength as a writer.
J Bennett is a professional copywriter and an author who loves asking that oh-so-dangerous question – "What if?" She currently writes a paranormal adventure series, Girl With Broken Wings, and a tongue-in-cheek short story series, The Vampire's Housekeeper Chronicles, featuring a very old, very grouchy, very non-sparkly vampire and his patient housekeeper.
She also writes the blog www.ShyWriter.com
Find J Bennett online at www.jbennettwrites.com or on Facebook at www.facebook.com/jbennettwrites.
➛ Amazon [Buy for free]
He leans down, lips parted, and then our lips connect … We didn't know that this one kiss has FOREVER changed the Land of the Fae.
According to the Prophecy proclaimed many years ago, Princess Calista of the Summer Court is destined to change the Land of the Fae from the evil determined to destroy it. Her powers are phenomenal, and she secretly trains for battle with her handsome warrior friend, Merrick, who unbeknownst to her protects her heart as well, in hopes of keeping it for himself. At least, until the seductive Prince Ryder attends the Guardian Ceremony and instantly sends a fire burning through her veins and a connection so deep they both discover a love above anything imaginable.
No one knows how Calista is destined to change the kingdoms, but there is one that does. He not only craves Calista's power, but her body as well, and his goal is to steal her power, make her his Dark Queen, and take over the Land of the Fae.
Will the evil succeed in claiming Calista's soul? Or will the two men that fight for her heart save her from despair, and help her fulfill her destiny to become what she was meant to be.
**Does contain some graphic language and sexual content. May not be suitable for young adults.**
New York Times and USA Today Bestselling author, L.P. Dover, is a southern belle residing in North Carolina along with her husband and two beautiful girls. Before she even began her literary journey she worked in Periodontics enjoying the wonderment of dental surgeries.
Not only does she love to write, but she loves to play tennis, go on mountain hikes, white water rafting, and you can't forget the passion for singing. Her two number one fans expect a concert each and every night before bedtime and those songs usually consist of Christmas carols.
Aside from being a wife and mother, L.P. Dover has written over nine novels including her Forever Fae series, the Second Chances series, and her standalone novel, Love, Lies, and Deception. Her favorite genre to read is romantic suspense and she also loves writing it. However, if she had to choose a setting to live in it would have to be with her faeries in the Land of the Fae.
L.P. Dover is represented by Marisa Corvisiero of Corvisiero Literary Agency.
➛ Amazon [Buy for free]
New Adult Paranormal Romance by bestselling author Kristie Cook ** Mature Content ** Recommended for ages 16+ due to sexual situations and language
First installment of the Book of Phoenix series. Consistently rated in the top 25 New Adult & College Romance books on Amazon.com!
When Life Falls to Pieces, Answers Lie in the Space Between
Leni Drago can't make a smart decision on her own, according to her mother anyway–the few times she's tried resulted in disaster. When her uncle sends her on a dance tour in Italy to find her real self, she returns to an empty home and any evidence of his existence wiped out. Then things get even stranger, like the mysterious appearances of Jeric Winters–inked, pierced and a hit-'em-and-quit-'em type. He's one decision that should be easy for Leni. Or is he?
Jeric doesn't do girlfriends. Unless they're someone else's. He left the fighting cage and modeling for a reason, and girls who want more than a night of fun are distractions he doesn't need. Especially when they come with as much baggage as Leni carries. But he can't shake the gut feeling that he needs to know her. All of her.
To discover the truth behind their connection and their ties to a journal from 1989, they must face painful secrets from their pasts. And they must do so quickly because their own existences are falling to pieces.
Two love stories, one mystery and a paranormal twist that readers call "mind blowing." This first part of The Book of Phoenix takes you on a heart-wrenching ride as you discover the answers that lie in The Space Between
Kristie Cook is a lifelong writer in various genres, from marketing communications to fantasy fiction. Besides writing, she enjoys reading, cooking, traveling and riding on the back of a motorcycle. She has lived in ten states, but currently calls Southwest Florida home with her husband, three teenage sons, a beagle and a puggle. She can be found at www.KristieCook.com.
[Hunted]
➛ Amazon [Buy for free]
A New Adult Shapeshifter Anthology.
Hunt or be Hunted… sometimes you don't have a choice.
9 Fantastic Shifter Stories from today's best-selling authors,
BOOK 1
FLEDGLING By Natasha Brown
BOOK 2
SEVENTH MARK – Part 1 by W.J. May
BOOK 3
CRUSH By Chrissy Peebles
BOOK 4
ONCE BITTEN By Trina M Lee
BOOK 5
VENOM By Kristen Middleton
BOOK 6
IGNITE By Kaitlyn Davis
BOOK 7
LOVE BEGINS IN HELL By Ally Thomas
BOOK 8
WOLF SPELL By M.R. Polish
BOOK 9
VERITY By Claire Farrell