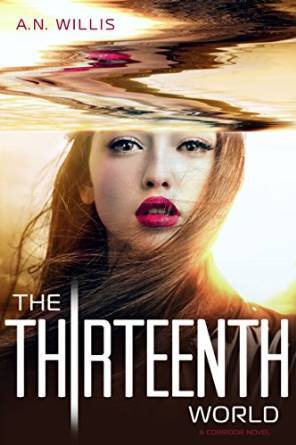 Time is running out for Stel Alaster. The Corridor, the only portal between First and Second Earth, is failing and the barriers between all twelve worlds are thinning. Using her unique ability to travel through the multiverse, Stel sets out to save the Corridor . . . and ends up discovering a mysterious new world.
In the sequel to The Corridor, will the thirteenth world hold the key to the Corridor's secrets? Or will the portal implode and take every last universe down with it?
Arc kindly provided by the publisher, via netGalley, in exchange for an honest review.
Yes, yes! Thank you for the invitation, cause I absolutely loved this book.
Writing Style
I've said in a previous review about the first book 'The Corridor' that the writing style was pleasant and not confusing. Same goes for 'The Thirteenth World' and maybe even better. Everything made sense and there was a perfect flow. There were description and then thoughts and then dialogue. The transition was great and it felt like I could experience everything in my mind. Amazing.
My only problem was that I was sometimes lost with the double names of the worlds. My memory is not that remarkable so I had to look for which world is which. Well that didn't actually stop me from enjoying the book though.
Plot/World Building
It was crazy! 12 parallel worlds and lives. Imagine many versions of yourself and the power to find out about them. Well of course our girl, Stel, is special and there's something unique about her but I am not going to spoil anything. So the story evolved better than expected. I thought that the first book was a bit boring and slow but darn, this one was amazing. So much action and mystery and passion. I felt every emotion possible; it blew my mind, seriously.
There was a perfect dose of romance but not too much. The story focused on how Stel would find out about her true identity and her connection with the Corridor.
It was so easy for me to read it and it was a bit unfortunate that I was so busy. It took me a while to finish it because of other stuff. I practically read around 65% the same day and I had to stop after that.
Characters
Stel was really great in this book. She had everything I expect from a main character. She was brave, true to her feelings and beliefs, loyal to her family and friends and of course she was in love. Thank god she was well written and she never allowed herself to be dragged down by blinded love. Of course she wanted to fight to be with Cohl but she knew that some things are not possible and she had to sacrifice them in order to do the right thing. I was proud about her.
Cohl was not really a main character but he was actually just Stel's love interest in this book, in addition to the previous. This time I liked him better because he had changed. He grew closer to his family and he realized that he couldn't be jealous of his brother anymore. I could see how Stel had affected him and how much she meant to him.
Ana and Justin were also a big part of this book. Their presence helped Stel in many aspects and she knew that she was not alone because of all the love and support they offered her. I also shipped them together and I got a bit disappointed that nothing happened. Maybe mrs. Willis will write a book about them and get them together… please?
Overall
I really really liked how the story ended and I am so thankful that I got invited to read it. Stel's adventure is on of the ones you just have to read at some point. It's something different and unique and it'll make you hopeful and happy.
A.N. Willis writes YA–sometimes sci-fi, sometimes supernatural, always with heavy doses of action and romance. Her first novel, THE CORRIDOR, was inspired by her love of sci-fi TV shows growing up. She spent too many late nights in high school watching reruns, resulting in a possibly unhealthy obsession with yellow-eyed androids, renegade FBI agents, and wormholes to distant galaxies. When she's not writing, she's reading the latest from Stephen King, John Green, Donna Tartt–or anything YA. She feels at home wherever she can see the mountains.