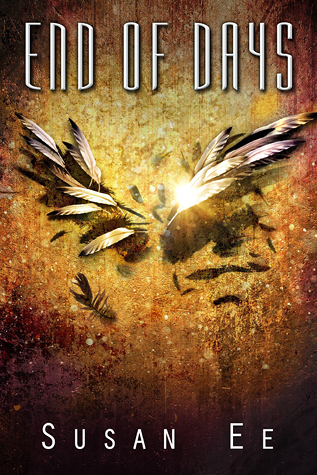 End of Days is the explosive conclusion to Susan Ee's bestselling Penryn & the End of Days trilogy.
After a daring escape from the angels, Penryn and Raffe are on the run. They're both desperate to find a doctor who can reverse the twisted changes inflicted by the angels on Raffe and Penryn's sister. As they set off in search of answers, a startling revelation about Raffe's past unleashes dark forces that threaten them all.
When the angels release an apocalyptic nightmare onto humans, both sides are set on a path toward war. As unlikely alliances form and strategies shift, who will emerge victorious? Forced to pick sides in the fight for control of the earthly realm, Raffe and Penryn must choose: Their own kind, or each other?
I am not sure why but End of Days was easier to read than the two first books of the series. Maybe it's because of the gory scenes they had. This one had a lot of action but not that freaky action. I was indeed freaked out at some point but it was ok.
So I've said before that I prefer past tense in books but I like Susan's writing style. I like how she passes from dialogue to information and from information to Penryn's thoughts. It's not complicated and it's easy to understand what's what! I thoroughly dislike confusing books and I appreciate simplicity.
Penryn is far from the teenage girl she used to be; she is finally a warrior. She was a survivor but she became more than that because she had to fight for mankind besides her family. That's huge, okay? You can't expect a 17-year-old to actually lead an army and yet she managed to surprise them all. Give it up for Penryn! I am also glad that her mom and Paige didn't abandoned her just like Penryn never gave up on them.
Raffe was a-m-a-z-i-n-g! He was exactly the way I hoped he could be. My only objection was that his behavior to Penryn changed rapidly. I get why he was protective and all but woah, dude, calm your tits. In book one and two he was barely talking to Penryn and the only time he showed real feelings was when he thought Penryn was dead. I think it was too abrupt but hell, I enjoyed it more than I should have so I am not complaining. I am just mentioning that I noticed the sudden change.
Other than that, I think I needed more but I am ok with the book ending that way. I can get over it and life goes on and blah blah. Besides, I loved the series but I was never a hardcore fan. I am pretty satisfied and happy!
[Susan Ee]
Susan Ee is a USA Today bestselling author of the Penryn & the End of Days trilogy, ANGELFALL, WORLD AFTER, and END OF DAYS. Her books have been translated into over twenty languages, and her short films have played at major festivals. She used to be a lawyer but loves being a writer because it allows her imagination to bust out and go feral.
Sign up to hear about her next book at www.susanee.com or follow her on Twitter @Susan_Ee.