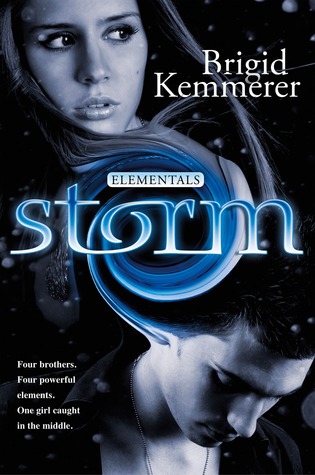 When Becca Chandler saves Chris Merrick from being beaten-up in the school car park, she has no idea how dramatically this one action will change her life. Chris is no ordinary guy and neither are his three older brothers. The Merrick boys are Elementals. Hot. Powerful. Dangerous. Marked for death.
Then there's Hunter, the mysterious new kid around school, turns up with a talent for being in the wrong place at the right time. With her life at stake, Becca doesn't know who to trust or whose secrets she should keep. and with two boy vying for her affections, and pressure rising all around her, will she find out in time who's hiding the most dangerous truth of all?
Take Cover.
The storm is coming!
So this is one of these books that I actually enjoyed. Even though there was this weird love triangle and I didn't really liked Becca, the plot was interesting in general and of course there were the twins. (They are also the reason I will keep reading the series).
A plus was the third person POV which for a change was awesome. I got really tired of the first person POVs in books. I always need to see more about the rest of the characters because call me weird, I usually never like the leads, they irritate me. Magic comes out of the rest stories and I am so excited everytime there is a sidecouple or hidden amazing characters.
So to sup up, the plot was decent, (most of) the characters awesome, the writing style and POV pleasant and finally the use of the elements was different than what I had in mind which was a nice surprise.
Great book, read it!
Brigid Kemmerer finds the time to write somewhere between caring for her family and working at her day job, but sometimes she ends up mothering her coworkers and managing her family. The Elemental Series follows a family of four orphaned brothers who control the elements of Earth, Air, Fire, and Water, and their battles with those who want them dead.