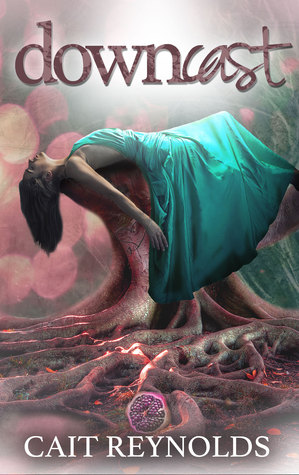 What would you do when faced with an impossible truth? Written with heart and passion, Downcast by Cait Reynolds is ripe with twists you never saw coming and love that defies the odds in this intense new Paranormal Romance retelling one of mythology's greatest love stories.
It's the start of Stephanie Starr's senior year of high school, but sadly, this is no life of the prom queen. Stuck at the bottom of the high school social totem pole, Stephanie is forced by her domineering mother to wear lumpy linen dresses and eat organic tofu for lunch in a world of mini-skirts and pizza.
What Stephanie doesn't anticipate is gorgeous and cocky Haley Smith who breaks social convention and pursues her with a determination that is both terrifying and flattering. Afraid that Haley is simply trying to set her up for massive humiliation, Stephanie does her best to push him away. But the more attention he pays to her, the more she runs, and the more everyone else begins to notice.
Instead of a loving family to support her as the mean girls make their play, Stephanie's mother begins to unravel mentally, her possessiveness of Stephanie spiraling to new and frightening extremes. Stephanie is forced to grow up, find herself, and learn the truth about her past in order to save her mother, her friends, and her town. When the truth is revealed, nothing can prepare her for the outrageous reality of her existence…and nothing can save her from her fate.
Except Haley.
Arc kindly provided by the publisher, via netGalley, in exchange for an honest review.
The first impression of a book is absolutely important. I loved the cover and it got my attention and that's why I got to read the blurb and requested the ARC.
When I started reading, I was thankful for that pretty cover because I knew from the very beginning that the book would be different and interesting. You don't usualy get to read "I always loved taking the trash to the dumpster." as a first sentence of a book. Excellent!
Before I say more about the plot I would love to praise the writting style. Detailed enough and yet not tiring. I can't even begin to explain how much I hate unnecessary descriptions about not really important things. Also, throughout the story, I could relate with Steph (our female lead) and I was able to feel exactly how she felt because of the impressive description of feelings. I was amazed at how easy for me was to freak out, be afraid, be happy or sad etc. Steph felt so real and I felt like I could live inside the book. I also appreciated the humour!
"No," I agreed. "The zombie apocalypse is still a few years off, right?"
"That's up to you to decide. Tell you what, we'll do it for fun someday when you're really bored."
Mentioning how real Steph was, reminds me of Haley. I got the dark vibes and the 'this-guy-is-a-really-weird/mysterious-fella' feels which was very good because it put me to the story faster. That means that Cait Reynolds succesfully created a male lead that captured me. He was obviously good-looking, charming and kind but at the same time he was intimidating and freaked the heck out of me just like he did to Steph. I was glad that she didn't instantly fall in love with him because that gave me the chance to do it at the same time as she, slowly and by getting to know him. Haley is amazing and together with Steph the represent the meaning of true love.
"Do you love me?" I asked gravely.
The corners of his lips tugged up ever so slightly. "Love is such a mortal word"
I was more and more proud of Steph, page after page.. Instead of having a mother who would support her dreams, she was stuck with a selfish, possesive, overprotective mother who was trying to hold her back. Yet she never gave up on her mother and truly loved her, even when chaos happens and even after finding the love of her life. She was a strong, beautiful person that held her family and friends in her heart. She pictures the perfect heirone and I was so relieved that she was not the usual irritating weak, little girl. She was a true badass even if she was not. (that sounded better in my mind).
I was glad that the other characters of the story weren't flat. Zack, Helen and Morris were amuzing people I could hang out with. Zack was caring, friendly and flirty while Helen sassy and opinonated enough to be able to support her friends and to gracefully turn down all Zack's efforts to hit on her. I enjoyed their interractions so much and I excpect a book for them finally getting together. It would be really interesting.
Finally, me being Greek gave this book one plus star. I loved how greek mythology was used and I was getting chills everytime Greece was mentioned in the book.
"Call it sentimental, but I have a special place in my stone-cold eternal heart for Greece."
Call it sentimental but I have a special place in my heart for my beautiful country as well. 
Good job! Can't wait for the publication in order to purchase it.