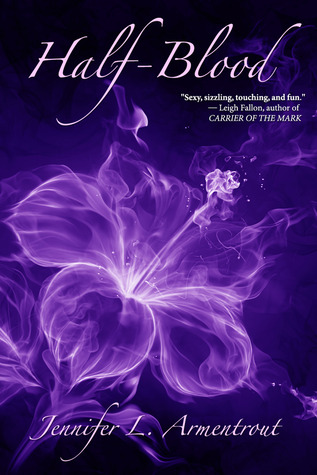 The Hematoi descend from the unions of gods and mortals, and the children of two Hematoi pure bloods have godlike powers. Children of Hematoi and mortals–well, not so much. Half-bloods only have two options: become trained Sentinels who hunt and kill daimons or become servants in the homes of the pures. Seventeen-year-old Alexandria would rather risk her life fighting than waste it scrubbing toilets, but she may end up slumming it anyway. There are several rules that students at the Covenant must follow. Alex has problems with them all, but especially rule #1:Relationships between pures and halfs are forbidden. Unfortunately, she's crushing hard on the totally hot pure-blood Aiden. But falling for Aiden isn't her biggest problem–staying alive long enough to graduate the Covenant and become a Sentinel is. If she fails in her duty, she faces a future worse than death or slavery: being turned into a daimon, and being hunted by Aiden. And that would kind of suck.
How do I even begin to explain this book? I think nobody can question Jennifer's talent. Yes, I loved it and yes, I found similarities with VA and yes, I don't even mind because the actual story has nothing to do with VA. So if you're not a VA fan then you're going to like this book.
First, let me praise Jennifer's writting style. Not even once I got lost or consfused or tired. I found no plot holes and the story was evolving slowly and surely. Her humour is always appreciated and admirable.
We were introduced to a brave, smart and strong half-blood, Alexandria or Alex, who had just lost her mother and was trying to survive. A great first impression. Alex was not a godess so of course she had weaknesses and her behavior was not the best. She was stubborn, rude and she never listened to her instructors and friends. Ok, that reminded me of all the annoying female characters I always judge and I admit that there were a couple of time that Alex pissed me off.
Alex fell in love with Aiden, her pure-blood trainer and of course that was forbidden. I was glad that she denied it and fought it at first and that it wasn't insta-love. Thank god for that! There was an enjoyable chemistry between the two of them and their scenes were intense and pleasing.
Aiden and Seth were the male leads. Aiden was the trainer and Seth was the fearsome Apollyon. Both of them were strong and respectable. They looked like they only cared about themselves but they were both caring and sensitive at some point. Especially Aiden who had a life similar to Alex and he felt like he should protect her. Well, if I had to compate them I would say that Seth was a selfish ashole on the outside and caring on the inside and Aiden was the mysterious, focused sentinel on the outside and a sensitive soul on the inside. I liked them both. Aiden grew on me immediately and Seth sent me the awe vibes since his entrance. Remarkable!
So, to end this review I will say that I am expecting the second book to be as exciting as this one and that I am already a fan of the series.
# 1 New York Times and USA Today Bestselling Author Jennifer L. Armentrout Lives in West Virginia.
All the rumors you heard about her state aren't true.
Well, mostly. When she's not hard at work writing, she spends her time, reading, working out, watching zombie movies, and pretending to write.
She is the author of the Covenant Series (Spencer Hill Press), the Lux Series (Entangled Teen), Don't Look Back (Disney/Hyperion) and a yet untitled novel (Disney/Hyperion), and new YA paranormal series with Harlequin Teen.
Jennifer also writes New Adult and Adult romance under the pen name J. Lynn. The Gamble Brothers Series (Tempting the Best Man/Tempting the Player) and Wait for You. Under her pen name, she is published with Entangled Brazen and HarperCollins.