I have in my priority-to-read shelf some books that I so want to read and yet I don't seem to do so. There's always something else that catches my eye and I ignore always ignore my tbr list. So, I am going to present to you a few books and maybe you can help me out by telling me your opinion. Should I read them? Which do you think it's more interesting?
Let's do this.
1.
Graceling meets The Selection in debut novelist Victoria Aveyard's sweeping tale of seventeen-year-old Mare, a common girl whose once-latent magical power draws her into the dangerous intrigue of the king's palace. Will her power save her or condemn her?
Mare Barrow's world is divided by blood—those with common, Red blood serve the Silver- blooded elite, who are gifted with superhuman abilities. Mare is a Red, scraping by as a thief in a poor, rural village, until a twist of fate throws her in front of the Silver court. Before the king, princes, and all the nobles, she discovers she has an ability of her own.
To cover up this impossibility, the king forces her to play the role of a lost Silver princess and betroths her to one of his own sons. As Mare is drawn further into the Silver world, she risks everything and uses her new position to help the Scarlet Guard—a growing Red rebellion—even as her heart tugs her in an impossible direction. One wrong move can lead to her death, but in the dangerous game she plays, the only certainty is betrayal.
Why I want to read it?
I am not really into dystopian books but this seems different. It's like a twisted fairytale and you guys know my hopeless romantic soul. Kings, princes and nobles; that's my thing.
2.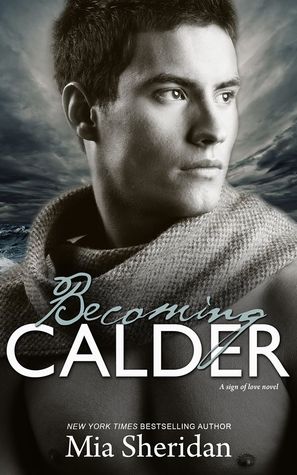 From the New York Times bestselling author of Archer's Voice.Becoming Calder is the first part in a two-part romance series. The conclusion, Finding Eden, is available now.
There is a place in modern day America with no electricity, no plumbing, and no modern conveniences. In this place, there is no room for dreams, no space for self-expression, and no tolerance for ambition.
In this place, there is a boy with the body of a god and the heart of a warrior. He is strong and faithful and serves his family honorably. But he dares to dream of more.
In this place, there is a girl with the face of an angel and a heart full of courage. To her family, she is the vision of obedient perfection. But she dares to want that which she has been told can never be hers.
Becoming Calder is the story of good versus evil, fear versus bravery, and the truth that the light of love has always found its way into even the darkest of places . . . From the beginning of time, to the end of the world.
THIS IS THE FIRST PART IN A TWO-PART SIGN OF LOVE SERIES INSPIRED BY AQUARIUS. THE SECOND PART, FINDING EDEN, IS AVAILABLE NOW. New Adult Contemporary Romance: Due to strong language and graphic sexual content, this book is not intended for readers under the age of 18.
Why I want to read it?
I've read Archer's Voice and god, I wasn't able to stop thinking about Archer for days after that. The blurb is so unique and I trust Mia Sheridan a lot. If her writing style is like Archer's Voice then I am already in love with this book.Read More »