Coming back determined to read as much as possible… but baby steps. Here is a short list of the books I will (hopefully) read.
1 . Lost Stars (Journey to Star Wars – The Force Awakens) by Claudia Gray
A long time ago in a galaxy far, far away…
Eight years after the fall of the Old Republic, the Galactic Empire now reigns over the known galaxy. Resistance to the Empire has been all but silenced. Only a few courageous leaders such as Bail Organa of Alderaan still dare to openly oppose Emperor Palpatine.
After years of defiance, the many worlds at the edge of the Outer Rim have surrendered. With each planet's conquest, the Empire's might grows stronger.
The latest to fall under the Emperor's control is the isolated mountain planet Jelucan, whose citizens hope for a more prosperous future even as the Imperial Starfleet gathers overhead…
2. Firebolt (The Dragonian #1) by Adrienne Woods
Dragons. Right. Teenage girls don't believe in fairy tales, and sixteen-year old Elena Watkins was no different.
Until the night a fairy tale killed her father.
Now Elena's in a new world, and a new school. The cutest guy around may be an evil dragon, a Prince wants Elena's heart, and a long dead sorcerer may be waking up to kill her. Oh. And the only way Elena's going to graduate is on the back of a dragon of her own.
Teenage girls don't believe in fairy tales. Now it's time for Elena to believe – in herself.
3. Storm (Phantom Islanders #1) by Ednah Walters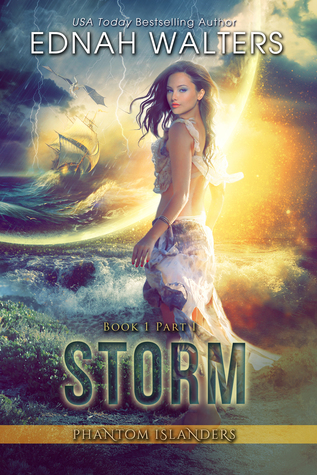 Pirates no longer roam the seas.
Phantom Islands don't exist.
Nanny to a wealthy family, eighteen-year old Alexandria "Lexi" Greendale sends most of what she earns home to support her disabled brother. She is determined to help him get the surgery he needs to walk again. Her dreams come to an abrupt halt when she rescues a man from drowning.
How does he repay her? Captain Storm Orath abducts her, claims her as his chosen mate, and takes her to a magical island that is centuries behind times with barbaric customs.
For Lexi to make it home to her family, she must fight the lure of the man and the island he controls, and escape, or stay trapped forever.
This is Part I of a 3-Part New Adult UF Serial about a woman and her journey of discovery, adventure, and unforgettable love.
Can't wait to hear your opinion about these books. Have you read them? Do you think I should read them?