There were books I wanted to read so badly when I was younger but I never had the chance. Recently I reorganized my shelves and found these books I know I won't read no matter how long they stay in my shelves. Why? They just don't click anymore and I feel that I've found already many better and more interesting books.
So let me show you.
Blood Song (Blood Singer #1) by Cat Adams
Ι guess there was a period when vampires were a trend and we were all trying to find new vampire books to read. I am so over vampires now and I guess this book will just remain in my shelve forever or untill I'm bored out of my mind so that I can read it.
Bodyguard Celia Graves has definitely accepted her share of weird assignments, both human and supernatural. But her newest job takes the cake. Guarding a prince from terrorists and religious fundamentalists is hard enough, but it seems like the entire supernatural world is after this guy too. When she is betrayed by those she is employed to help, and everything goes horribly wrong, Celia wakes to find herself transformed.
Neither human nor vampire, Celia has become an abomination-something that should not exist-and now both human and supernatural alike want her dead. With the help of a few loyal friends-a sexy mage, a powerful werewolf, and a psychic cop-Celia does her best to stay alive. On the run from her enemies, Celia must try to discover who is behind her transformation . . . before it's too late.
Touch of Frost (Mythos Academy #1) by Jennifer Estep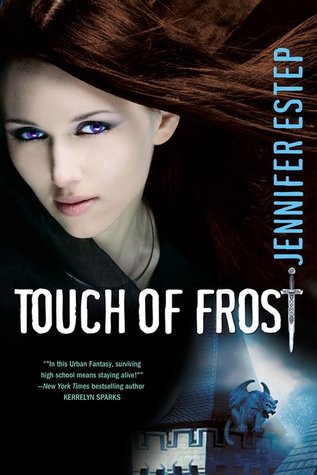 Ι don't know why I wanted to read this one. I guess because of the Vampire Academy and because of all the greek references. I think it was a trend back when I wanted to read it because many of my friends have already read it.
My name is Gwen Frost, and I go to Mythos Academy; a school of myths, magic and warrior whiz kids, where even the lowliest geek knows how to chop off somebody's head with a sword and Logan Quinn, the hottest Spartan guy in school, also happens to be the deadliest.
But lately, things have been weird, even for Mythos. First, mean girl Jasmine Ashton was murdered in the Library of Antiquities. Then, someone stole the Bowl of Tears, a magical artifact that can be used to bring about the second Chaos War. You know, death, destruction and lots of other bad, bad things. Freaky stuff like this goes on all the time at Mythos, but I'm determined to find out who killed Jasmine and why; especially since I should have been the one who died…
Anew (The Archer's of Avalon #1) by Chelsea Fine
Oh that's easy. Back then it was the cool cover and the unique plot that had me wanting to read it. Today I find the plot a bit common and I feel like I can spend my time with more interesting books.
Two years ago, Scarlet awoke in the forest alone, afraid, and unable to remember anything. Lost and confused, her life was a mystery…until she met a boy with a familiar voice.
Gabriel Archer has a voice from her past, and Scarlet's determined to remember why. She immerses herself in his life only to discover he has a brother he's kept hidden from her: Tristan Archer.
Upon meeting Tristan, Scarlet's world becomes even more muddled. While she's instinctively drawn to Gabriel, she's impossibly drawn to Tristan–and confused out of her mind. As she tries to piece together her history Scarlet realizes her past…might just be the death of her.
The Iron King (The Iron Fey #1) by Julie Kagawa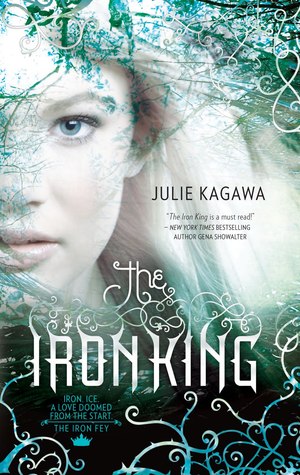 I am not sure about this one. It's pretty popular and I still find it a bit interesting but I know I won't read it. Too many books, too little time.
Meghan Chase has a secret destiny; one she could never have imagined.
Something has always felt slightly off in Meghan's life, ever since her father disappeared before her eyes when she was six. She has never quite fit in at school or at home.
When a dark stranger begins watching her from afar, and her prankster best friend becomes strangely protective of her, Meghan senses that everything she's known is about to change.
But she could never have guessed the truth – that she is the daughter of a mythical faery king and is a pawn in a deadly war. Now Meghan will learn just how far she'll go to save someone she cares about, to stop a mysterious evil, no faery creature dare face; and to find love with a young prince who might rather see her dead than let her touch his icy heart.
Wings (Wings #1) by Aprilynne Pike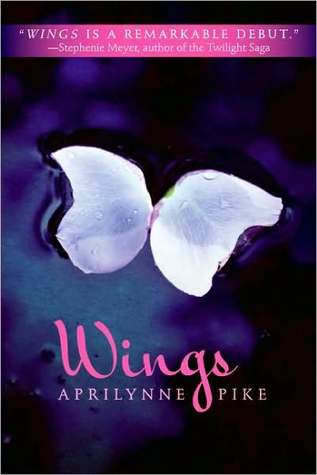 I thought Faries were interesting but then I started reading about Angels and I gave up on wanting to read this one. Yeah and then it was werewolves and it's still werewolves, so no. Fairies have to really wait for their turn… maybe forever.
Laurel was mesmerized, staring at the pale things with wide eyes. They were terrifyingly beautiful—too beautiful for words.
Laurel turned to the mirror again, her eyes on the hovering petals that floated beside her head. They looked almost like wings.
In this extraordinary tale of magic and intrigue, romance and danger, everything you thought you knew about faeries will be changed forever.
Tell me, tell me… you've read at least one of these books, right? I know you do!! What do you think? Should I reconsider?