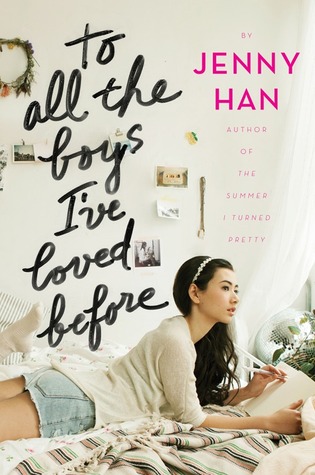 To All the Boys I've Loved Before is the story of Lara Jean, who has never openly admitted her crushes, but instead wrote each boy a letter about how she felt, sealed it, and hid it in a box under her bed. But one day Lara Jean discovers that somehow her secret box of letters has been mailed, causing all her crushes from her past to confront her about the letters: her first kiss, the boy from summer camp, even her sister's ex-boyfriend, Josh. As she learns to deal with her past loves face to face, Lara Jean discovers that something good may come out of these letters after all.
Sweet, cute and cheesy teenage drama! What kind of person doesn't enjoy this kind of books? I know I couldn't stop reading and the book was finished before I knew it, over a night.
Writing Style
Easy to read and follow the story. I love a book when it's simple and comprehensible, without difficult words and without having the author to show off their knowledge. The transition from thoughts to action was good and made sense. The was flow from descriptions to dialogues and then back and I was satisfied that I wasn't confused… not even once!
Characters
I have mixed feelings about Lara Jean. Even though she was almost an adult and she supposedly looked up to her sister who was so mature and all, she acted like a 12-yearl-old girl who had just found out about love and crushes and kisses, etc. I liked that she was naive and innocent but that contrasted with the fact that her best friend was the exact opposite. I mean you can't have a best friend who practically hooks up with every guy available and act like sex is something so special and magical. Let's be realistic, nobody is that naive while being surrounded by people like Chris. That was my only objection and I wish her character was stronger and more realistic.
I also didn't enjoy the fact that she couldn't decide who she liked. First it was Josh and then it was Peter but she coudn't let go of Josh and then Peter treated her well etc etc… it was tiring. I mean, choose one and stick with him.
I totally disliked Josh. Come on!!! The dude was crying for breaking up with Margot one day and the next day he is just so in love with Lara Jean. Why is that teenagers 'fall in love' every day with a different person? Ι am that kind of person who can't forgive such behaviors. Liking and trying to have both sisters is unacceptable.
Peter was decent. I could understand why he just couldn't let go of Gev. Deleting somone you used to love completely from your life is not easy. Peter was so many years with Gev and it's only natural that he cared about her even after they broke up. I wish Lara Jean could understand that. Sometimes he was a jerk but I could forgive him everything because he was caring. He treated Lara Jean like a princess and he didn't have to, he was so nice to Kitty and he tried to make this happen.
Overall
I liked the book because I was reminded of my own love life. I used to write letters but of course I was throwing them away. Writing your feelings in a paper is just dangerous. Anyway, I think I am too old to read that kind of stories because instead of enjoying them I am being judgy and mean. I feel like protecting all these young girls from getting hurt and I end up being that way. It's like I forgot how to be a teenager and how I used to change my mind about boys all the time. I had many crushes but at least I never 'loved' any of them. I won't start again about the L word because I'll be extra mean. The YA genre has started not to working anymore for me.
Ok so the point is that the book was not bad. In addition, it was pretty good and enjoyable. I'm just weird and strict.