Hey guys, I am back with a new top 5. This time I picked my favorite books ever. The thing is that I picked them based on the book itself and not based on the series. I am in love with the series but it comes naturally to like a book more than an other, right? Next week my top 5 will be about favorite series as a whole. So I am ready, let's do this!
Secret (Elemental #4) – Brigid Kemmerer
[Secret]
Nick Merrick is stretched to breaking point. He's trying to keep his grades sky-high or he won't get in to college. He's trying to keep his brother's business afloat or the Merricks will be out on the street. He's trying to keep the secret of where he's going in the evenings from his twin brother Gabriel – or he fears he'll lose his family. And he's trying to keep his mind off the hot, self-assured dancer who is his 'girlfriend's' partner.
And then Quinn takes to hanging around his sworn enemy, and an Elemental Guide is counting the hours until he can try again to kill the Merrick brothers. Storms are brewing. On all sides.
SECRETS IN THE WIND. DANGER IN THE AIR.
Archer's Voice – Mia Sheridan
A New York Times, USA Today, and Wall Street Journalbestselling book. Archer's Voice is a full-length, standalone romance.
When Bree Prescott arrives in the sleepy, lakeside town of Pelion, Maine, she hopes against hope that this is the place where she will finally find the peace she so desperately seeks. On her first day there, her life collides with Archer Hale, an isolated man who holds a secret agony of his own. A man no one else sees.
Archer's Voice is the story of a woman chained to the memory of one horrifying night and the man whose love is the key to her freedom. It is the story of a silent man who lives with an excruciating wound and the woman who helps him find his voice. It is the story of suffering, fate, and the transformative power of love.
THIS IS A STANDALONE SIGN OF LOVE NOVEL, INSPIRED BY SAGITTARIUS. New Adult Contemporary Romance: Due to strong language and sexual content, this book is not intended for readers under the age of 18.
Opposition (Lux #5) – Jennifer L. Armentrout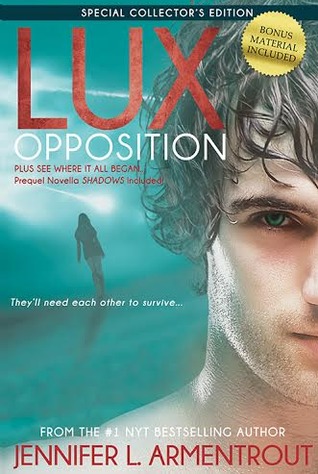 Katy knows the world changed the night the Luxen came.
She can't believe Daemon welcomed his race or stood by as his kind threatened to obliterate every last human and hybrid on Earth. But the lines between good and bad have blurred, and love has become an emotion that could destroy her—could destroy them all.
Daemon will do anything to save those he loves, even if it means betrayal.
They must team with an unlikely enemy if there is any chance of surviving the invasion. But when it quickly becomes impossible to tell friend from foe, and the world is crumbling around them, they may lose everything— even what they cherish most—to ensure the survival of their friends…and mankind.
War has come to Earth. And no matter the outcome, the future will never be the same for those left standing.
Defiance (Significance #3) – Shelly Crane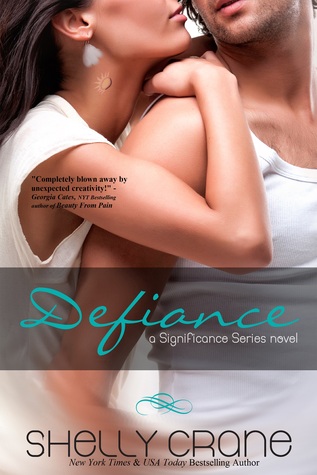 [Defiance]
In the third installment of the Significance series, we begin with Maggie and Caleb in the clutches of a new enemy; the Virtuoso council. Not only do they have to deal with the consequences of taking the lives of the Watsons and the council attempting to take Maggie away to keep their precious Visionary safe, but they must deal with Marla as well. All are determined to undermine, control and use Caleb and Maggie's rare gifts for their own uses, some wish to destroy them entirely. Then Maggie's father and Bish are threatened but the council forbids the presense of humans. Peter and the family fight and stand beside them every step of the way to save Maggie's father, to keep Caleb and Maggie together when the corrupted council is so set on keeping them apart and to stop Marla and whatever she has up her sleeve. Then Maggie has the shock of her life when she discovers something about her real father. It may change everything for everyone. Stay tuned as the story continues.
Apollyon (Covenant #4) – Jennifer L. Armentrout
[Apollyon]
Fate isn't something to mess with… and now, neither is Alex.
Alex has always feared two things: losing herself in the Awakening and being placed on the Elixir. But love has always been stronger than Fate, and Aiden St. Delphi is willing to make war on the gods—and Alex herself—to bring her back.
The gods have killed thousands and could destroy entire cities in their quest to stop Seth from taking Alex's power and becoming the all-powerful God Killer. But breaking Alex's connection to Seth isn't the only problem. There are a few pesky little loopholes in the whole "an Apollyon can't be killed" theory, and the only person who might know how to stop the destruction has been dead for centuries.
Finding their way past the barriers that guard the Underworld, searching for one soul among countless millions, and then somehow returning will be hard enough. Alex might be able to keep Seth from becoming the God Killer… or she might become the God Killer herself.
What do you think about these books? Have you read any of them? Is anyone in your top 5 or at least top 5?