I have in my priority-to-read shelf some books that I so want to read and yet I don't seem to do so. There's always something else that catches my eye and I ignore always ignore my tbr list. So, I am going to present to you a few books and maybe you can help me out by telling me your opinion. Should I read them? Which do you think it's more interesting?
Let's do this.
1.
Graceling meets The Selection in debut novelist Victoria Aveyard's sweeping tale of seventeen-year-old Mare, a common girl whose once-latent magical power draws her into the dangerous intrigue of the king's palace. Will her power save her or condemn her?
Mare Barrow's world is divided by blood—those with common, Red blood serve the Silver- blooded elite, who are gifted with superhuman abilities. Mare is a Red, scraping by as a thief in a poor, rural village, until a twist of fate throws her in front of the Silver court. Before the king, princes, and all the nobles, she discovers she has an ability of her own.
To cover up this impossibility, the king forces her to play the role of a lost Silver princess and betroths her to one of his own sons. As Mare is drawn further into the Silver world, she risks everything and uses her new position to help the Scarlet Guard—a growing Red rebellion—even as her heart tugs her in an impossible direction. One wrong move can lead to her death, but in the dangerous game she plays, the only certainty is betrayal.
Why I want to read it?
I am not really into dystopian books but this seems different. It's like a twisted fairytale and you guys know my hopeless romantic soul. Kings, princes and nobles; that's my thing.
2.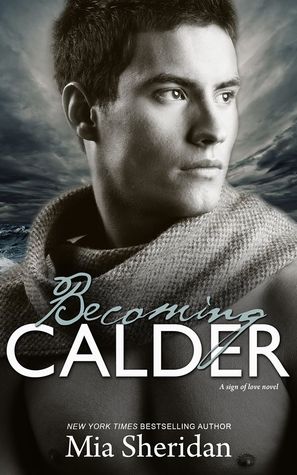 From the New York Times bestselling author of Archer's Voice.Becoming Calder is the first part in a two-part romance series. The conclusion, Finding Eden, is available now.
There is a place in modern day America with no electricity, no plumbing, and no modern conveniences. In this place, there is no room for dreams, no space for self-expression, and no tolerance for ambition.
In this place, there is a boy with the body of a god and the heart of a warrior. He is strong and faithful and serves his family honorably. But he dares to dream of more.
In this place, there is a girl with the face of an angel and a heart full of courage. To her family, she is the vision of obedient perfection. But she dares to want that which she has been told can never be hers.
Becoming Calder is the story of good versus evil, fear versus bravery, and the truth that the light of love has always found its way into even the darkest of places . . . From the beginning of time, to the end of the world.
THIS IS THE FIRST PART IN A TWO-PART SIGN OF LOVE SERIES INSPIRED BY AQUARIUS. THE SECOND PART, FINDING EDEN, IS AVAILABLE NOW. New Adult Contemporary Romance: Due to strong language and graphic sexual content, this book is not intended for readers under the age of 18.
Why I want to read it?
I've read Archer's Voice and god, I wasn't able to stop thinking about Archer for days after that. The blurb is so unique and I trust Mia Sheridan a lot. If her writing style is like Archer's Voice then I am already in love with this book.
3.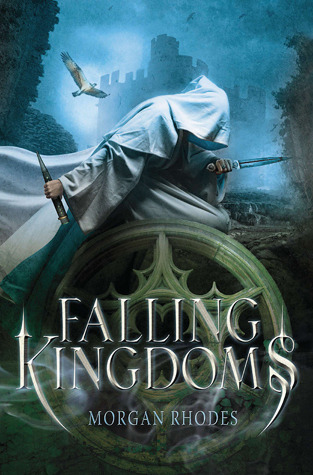 In the three kingdoms of Mytica, magic has long been forgotten. And while hard-won peace has reigned for centuries, a deadly unrest now simmers below the surface.
As the rulers of each kingdom grapple for power, the lives of their subjects are brutally transformed… and four key players, royals and rebels alike, find their fates forever intertwined. Cleo, Jonas, Lucia, and Magnus are caught in a dizzying world of treacherous betrayals, shocking murders, secret alliances, and even unforeseen love.
The only outcome that's certain is that kingdoms will fall. Who will emerge triumphant when all they know has collapsed?
It's the eve of war…. Choose your side.
Princess: Raised in pampered luxury, Cleo must now embark on a rough and treacherous journey into enemy territory in search of magic long thought extinct.
Rebel: Jonas, enraged at injustice, lashes out against the forces of oppression that have kept his country cruelly impoverished. To his shock, he finds himself the leader of a people's revolution centuries in the making.
Sorceress: Lucia, adopted at birth into the royal family, discovers the truth about her past—and the supernatural legacy she is destined to wield.
Heir: Bred for aggression and trained to conquer, firstborn son Magnus begins to realise that the heart can be more lethal than the sword….
Why I want to read it?
I just feel like I will get lost in this story. Sends me the vibes of a really awesome high fantasy book.
Blue Echohawk doesn't know who she is. She doesn't know her real name or when she was born. Abandoned at two and raised by a drifter, she didn't attend school until she was ten years old. At nineteen, when most kids her age are attending college or moving on with life, she is just a senior in high school. With no mother, no father, no faith, and no future, Blue Echohawk is a difficult student, to say the least. Tough, hard and overtly sexy, she is the complete opposite of the young British teacher who decides he is up for the challenge, and takes the troublemaker under his wing.
This is the story of a nobody who becomes somebody. It is the story of an unlikely friendship, where hope fosters healing and redemption becomes love. But falling in love can be hard when you don't know who you are. Falling in love with someone who knows exactly who they are and exactly why they can't love you back might be impossible.
Why I want to read it?
First of all I am a sucker for teacher-student relationships and forbiden love. Also, I've accepted a yearly challenge and I need to 'read a book with a color in the title'.