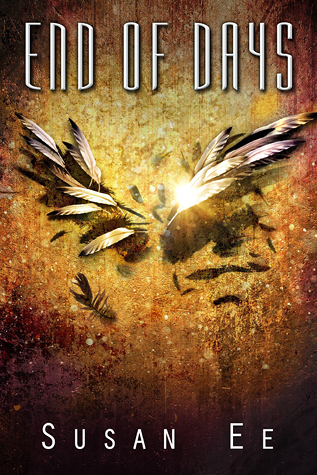 End of Days is the explosive conclusion to Susan Ee's bestselling Penryn & the End of Days trilogy.
After a daring escape from the angels, Penryn and Raffe are on the run. They're both desperate to find a doctor who can reverse the twisted changes inflicted by the angels on Raffe and Penryn's sister. As they set off in search of answers, a startling revelation about Raffe's past unleashes dark forces that threaten them all.
When the angels release an apocalyptic nightmare onto humans, both sides are set on a path toward war. As unlikely alliances form and strategies shift, who will emerge victorious? Forced to pick sides in the fight for control of the earthly realm, Raffe and Penryn must choose: Their own kind, or each other.
Kiera Cass's #1 New York Times bestselling Selection series has enchanted readers from the very first page. In this fourth romantic novel, follow Illéa's royal family into a whole new Selection—and find out what happens after happily ever after.
Eighteen years ago, America Singer entered the Selection and won Prince Maxon's heart. Now the time has come for Princess Eadlyn to hold a Selection of her own. Eadlyn doesn't expect her Selection to be anything like her parents' fairy-tale love story…but as the competition begins, she may discover that finding her own happily ever after isn't as impossible as she's always thought.
A new generation of swoonworthy characters and captivating romance awaits in the fourth book of the Selection series!
From the New York Times bestselling author of the Covenant and Lux series comes a novel of danger, Gods and Titans… and an electric love story which will send you reeling.
A year ago, Seth made a deal with the gods – and pledged his life to them. Now, Apollo has a task for Seth: one which sees him playing protector over a beautiful, feisty girl who's strictly off-limits. And for someone who has a problem with restraint, this assignment might be Seth's most challenging yet.
Josie has no idea what this crazy hot guy's deal is, but he arrives in her life just as everything she's ever known is turned upside down. Either she's going insane, or a nightmare straight out of ancient myth is heading her way.
Josie can't decide which is more dangerous: an angry Titan seeking vengeance? Or the golden-eyed, secretive Seth – and the white-hot attraction developing between them…
Graceling meets The Selection in debut novelist Victoria Aveyard's sweeping tale of seventeen-year-old Mare, a common girl whose once-latent magical power draws her into the dangerous intrigue of the king's palace. Will her power save her or condemn her?
Mare Barrow's world is divided by blood—those with common, Red blood serve the Silver- blooded elite, who are gifted with superhuman abilities. Mare is a Red, scraping by as a thief in a poor, rural village, until a twist of fate throws her in front of the Silver court. Before the king, princes, and all the nobles, she discovers she has an ability of her own.
To cover up this impossibility, the king forces her to play the role of a lost Silver princess and betroths her to one of his own sons. As Mare is drawn further into the Silver world, she risks everything and uses her new position to help the Scarlet Guard—a growing Red rebellion—even as her heart tugs her in an impossible direction. One wrong move can lead to her death, but in the dangerous game she plays, the only certainty is betrayal.
What would you do when faced with an impossible truth? Written with heart and passion, Downcast by Cait Reynolds is ripe with twists you never saw coming and love that defies the odds in this intense new Paranormal Romance retelling one of mythology's greatest love stories.
It's the start of Stephanie Starr's senior year of high school, but sadly, this is no life of the prom queen. Stuck at the bottom of the high school social totem pole, Stephanie is forced by her domineering mother to wear lumpy linen dresses and eat organic tofu for lunch in a world of mini-skirts and pizza.
What Stephanie doesn't anticipate is gorgeous and cocky Haley Smith who breaks social convention and pursues her with a determination that is both terrifying and flattering. Afraid that Haley is simply trying to set her up for massive humiliation, Stephanie does her best to push him away. But the more attention he pays to her, the more she runs, and the more everyone else begins to notice.
Instead of a loving family to support her as the mean girls make their play, Stephanie's mother begins to unravel mentally, her possessiveness of Stephanie spiraling to new and frightening extremes. Stephanie is forced to grow up, find herself, and learn the truth about her past in order to save her mother, her friends, and her town. When the truth is revealed, nothing can prepare her for the outrageous reality of her existence…and nothing can save her from her fate.
Except Haley.